Welcome to this May newsletter from the Customer Union for Ethical Banking, the independent union for customers of The Co-operative Bank.
This month, the bank launched its latest Values & Ethics report, covering 2019. We at the Customer Union have also held two meetings with the bank – remotely of course – so there is plenty to update you on.
 
---
1. Our view of the Values & Ethics Report 2019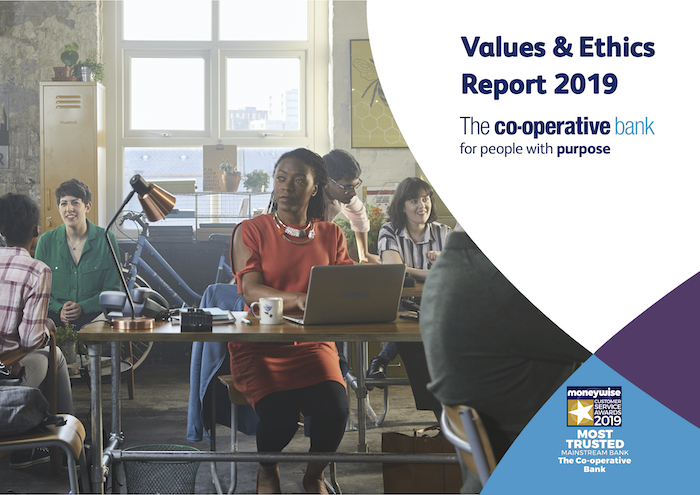 We've published our view of the Values & Ethics report on our website here, with some commentary on areas we found interesting or which raised questions. While we welcome the report, we are disappointed that the bank did not have the report externally verified. They blame the pandemic but this follows a clear commitment to us last September to do so.
We will be launching a campaign later in the year to make sure the bank rectifies this with a return to external reporting in place for next year's report. In the meantime, you can help by contacting the bank by email, Facebook or Twitter to let them know you are concerned.
---
2. Meetings with the bank and its COVID-19 response
Under our recognition agreement with the bank, we meet with representatives from the bank quarterly. Last month we published a lengthy document of questions from members and the bank's responses from our March meeting (see here). On our remote meeting this month, we discussed some updates on these responses, as well as the upcoming Values & Ethics Report and issues around external verification.
The bank also told us about its response to the Coronavirus pandemic. This has included launching government-backed loans under the Bounce Back Loan Scheme (BBLS) and Coronavirus Business Interruption Loan Scheme (CBILS) programmes, which business customers can apply for here.
The bank is also providing payment holidays for approximately 17,000 mortgage, loans and credit card customers to date, which are not covered by the government but are at the bank's risk. The bank confirmed that regardless of the Covid-19 context and the government guarantee, loans will not be given to those that don't meet the Bank's Ethical Policy.
The bank is proud to have kept all its branches open through the pandemic; something which others have not matched. All branches have been set up so that social distancing is understood and can be adhered to. It has also been reaching out with messages to customers who are NHS staff, noting how it can support them, which has met with a positive response. Regarding staff, the bank told us that no-one has been furloughed, and staff with childcare requirements or other difficulties are generally being given extended leave, on a case by case basis.
Finally, following this call we held a second call with the bank's Internal Audit team – see our page on the Values & Ethics Report for more on this.
 
---
3. Bank announces Q1 2020 results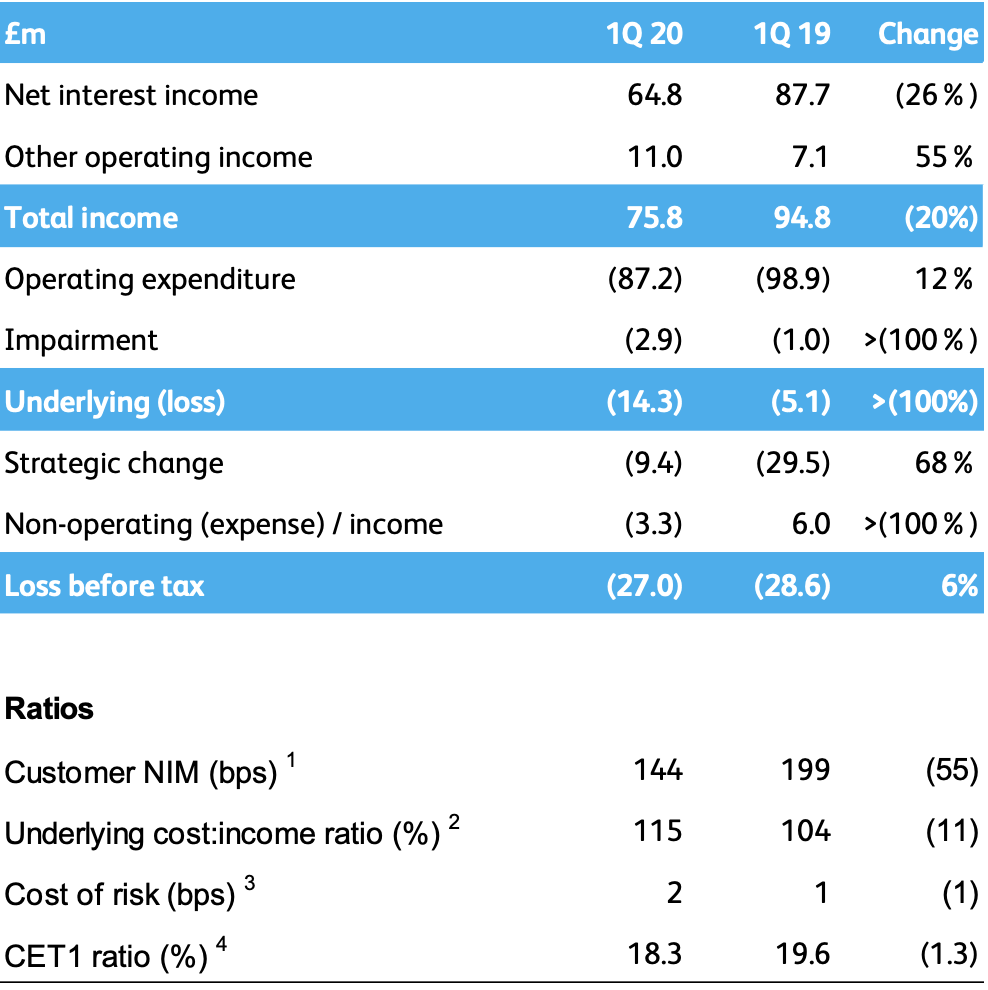 At the start of May, the Co-operative Bank announced its trading results for the first quarter of the year. You can see the full statement here or, if you prefer, read a take from Insider.co.uk here.
The results show that the bank is still losing money, with an operating loss before tax of £27m, but this is slightly down on Q1 2019. It has taken a hit of £12m as a result of COVID-19. On the plus side, SME business is up with deposits up 11%.
Following a question from one of our members, it's interesting to note that the Net Interest Margin is down - the bank is taking a hit from the lower interest rate environment.
 
---
4. Earth Day Switch
Although Earth Day has been and gone for this year, we wanted to let you know about the Earth Day Switch website, which is encouraging people to switch their banks and energy providers to those that don't support fossil fuels.

We're pleased to see the Co-op scoring "Great!". Check out other banks and energy providers here, and feel free to share with your friends to encourage them to switch as well.
 
With best wishes
The Save Our Bank team
---
Have you joined the Customer Union yet? It costs £12 a year to be a member of the first ever customer union co-operative, and help us ensure the Co-op Bank sticks to its principles. It only takes a few moments to sign up here.