Earlier this year we asked members of the Customer Union (and Save Our Bank supporters) to send in questions that they'd like us to ask the Co-operative Bank at our regular meeting with them in March. Since we met the bank, the COVID-19 crisis has significantly worsened and this has prompted some further dialogue with the bank.
We assembled - and in some cases amalgamated - a list of questions from members before presenting them to the bank for initial discussion. The bank then went away to consider a more detailed response, and there was a further dialogue.
The issues covered are listed below. Click on a subject for details of our question and the bank's responses.
---
COVID-19
We asked the bank about their COVID-19 responses so far, for example the business interruption loans (where some banks have been demanding personal guarantees from directors even though the government is backing 80% of the loan value).
The bank's response
Coronavirus Business Interruption Loans. We are not yet able to offer this product to our customers, but we have applied to become part of the scheme and hope to be accredited as soon as possible. In the meantime, we are supporting our small business customers in a range of ways according to their individual circumstances. More details on our website. We've had some positive feedback from customers about our speed of response and flexibility.
At the end of last week, we confirmed we will be offering £500 interest free overdrafts for customers, until early July, alongside the payment holidays we are already offering on mortgage products. Our aim is to support our customers throughout this period of uncertainty.
Our Comment
We are sure the bank will do what it can to help customers through the crisis and the offer on overdrafts is industry-leading - with just HSBC offering something similar.
---
Interest rates
Our question
The bank's interest rates for savers have recently gone down further. Why is this when the government is encouraging people to save?
The bank's response
Our comment
From an ethical point of view, it is good that the bank is passing on rate reductions to mortgage customers.
It appears that the savings rates are less directly tied to the base rate, and customers may see changes without a corresponding change in bank rates. That may not be a bad thing in a very weak market.
---
Car reader recycling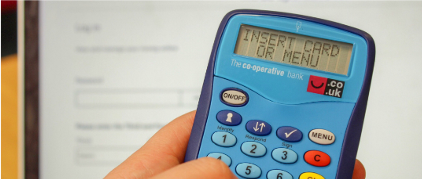 Our question
Many members asked about the card reader recycling scheme and publicity for it. Several members completely missed any communications on this. When we looked recently, we couldn't easily find current information on how to do it. Members also wanted more detail on how the devices are recycled. And we suggested that a Freepost address would encourage customers to recycle.
The bank's response
The bank pointed out that they are limited on what they can communicate to customers depending on the marketing preferences they have chosen, and this led to a wider discussion about how to communicate information on ethical policy matters. We'll be following up on this.
The bank also pointed out that it has promoted the scheme on social media.
Details on the scheme are here:
https://www.co-operativebank.co.uk/security/two-factor-authentication/recycle-your-card-reader
Details on the recycling process are here:
https://www.co-operativebank.co.uk/news/2020/how-we-recycle-your-old-card-readers
The bank added:
We did review the option to include a Freepost address but were unable to accommodate this within the budget for the scheme. Card readers can be handed in at branches and head office sites at no cost and we have provided guidance on postage costs within the details of the scheme in the website:
Due to the width of card readers, returning a card reader in an envelope will classify as a large letter. A large letter second class stamp will cost 83p, a first class large letter stamp is £1.06. If you are returning multiple card readers in a single envelope this could classify as a parcel and carry a higher cost.
Our comment
The bank's process for recycling the devices is - as you would expect - good practice. The batteries are properly dealt with and the precious metals are recovered.
It's a shame the bank won't offer a Freepost scheme but it is good to know exactly what stamp to use so that you don't have to queue at the post office.
We'll keep members up to date on the scheme and how to use it.
---
Carbon footprint
One member with expertise in the area asked about the bank's carbon footprint reporting and some details such as whether the bank would report on its "Scope 1, 2 and 3" emissions and details of where the bank holds investments.
The bank's response
Our Values and Ethics Report will include Scope 1 and 2 as we don't currently report scope 3 emissions.  In the 2019 Annual Report and Accounts we increased our Environmental, Social and Governance reporting and included a commitment to build on this over the coming months.  We will therefore review whether we are able to include scope 3 emissions into future year's reporting.
We don't publish details of all the individual small business customers that we lend to, although some customers are happy to feature as case studies in our marketing and PR, on a case by case basis. We included the amount of money we lent to the renewable energy sector in 2019 in our Annual Report and Accounts.
All energy purchased by the Bank is renewable and business travel is kept to a minimum, including flights for business (we are a UK only Bank so no need for international travel). We use an accredited scheme to offset the carbon emissions we produce.
The Co-operative Bank has been 'beyond carbon neutral' or 'carbon negative' since 2007. We can make this claim because we calculate our annual carbon emissions. Our carbon emissions are offset this plus an additional 10% to address the impact our business activities have had in the past.
Our comment
This is an area where the bank has been a world leader for years. But other banks are beginning to catch up and we'd like to see the bank do more on renewables - see Postive investment below.
---
Employees
A member asked about Living Wage status, whether cleaning staff are employed by the bank, current status on gender pay gap, and what the policy is on overseas call centres.
We pointed out that the bank has been Living Wage accredited since 2015.
The bank's response
We remain an accredited employer to the Living Wage Foundation and over the last 12 months have taken steps to commit to paying marginally above the rates they publish each year.
Cleaning staff are not employed by the bank:
However, staff employing organisations who work on Bank premises are covered by the our Living Wage commitments and our contracts with these organisations cover these requirements.
Our 2019 Gender Pay Gap report is here:
https://www.co-operativebank.co.uk/assets/pdf/bank/aboutus/ourbusiness/Women_In_Finance_Report_2019.pdf
We continue to take active steps to improve the balance between male and females in roles at all levels in the organisation which we believe help our gender pay position over the longer term.  
Our call centres are all based in the UK and we have no plans to move our call centres elsewhere.
Our comment
The bank has a pretty good record here. It achieved living wage accreditation ahead of others (its previous owner, the Co-op supermarket group for example). It actively encourages trade union membership.
---
Communications
On issues like the card reader recycling scheme and the planned ethical policy review, members have pointed out that they missed communications from the bank.
The bank's response
The bank pointed to the limitations on what information they can send customers that have not 'opted in' to marketing communications. They told us:
You can switch on to receive marketing emails from us by changing your marketing preferences in the mobile app, if you go to Menu/My settings and details/Marketing Preferences.
Our comment
This was the subject of an extended discussion with the bank and we have suggested that many members that do not want marketing communications would nevertheless like to be kept up to date on ethical and campaign matters. We have suggested that there might be a special opt-in for that.
The bank is looking at this idea.
---
Stopped cheque
One member raised a question about a cheque that had been stopped by the bank, and some resulting misunderstandings, including a charge for the stopped cheque. Our member felt that there were ethical issues about how the bank handled the issue.
This was an example of where we can - with explicit permission from a member - take up an individual case where there is an ethical angle.
The bank's response
The bank picked up the matter promptly and took care to resolve the outstanding issues.
Our comment
The bank pointed out that the issue had arisen because there was a concern that our member might be the victim of a fraud. Other members have raised similar issues with us in the past.
There is clearly a balancing act for the bank here. We'd be interested in hearing from members who have experience similar problems and any thoughts for how the bank could improve its processes.
---
Palm oil
A member asked whether the bank bans investment in palm oil - it's not explicit in the policy.
The bank's response
Our Ethical Policy includes the statement "We will not provide banking services to any business or organisation whose activities significantly contribute to the degradation of endangered animal species' habitats."
The Bank considers activities related to the unsustainable harvest of palm oil to fit within this definition and would therefore decline banking services to any business or organisation involved in the unsustainable production of palm oil.
Our comment
We suggested that perhaps an explicit statement about palm oil should be considered in the next Ethical Policy review. The bank responded:
We agree this is one of the areas that when we update the Ethical Policy, customers might want to see this specifically recognised and we will reflect that in the customer poll.
---
Secure Customer Authentication
Background: a member previously raised a concern that in response to the new EU regulations on "Secure Customer Authentication", the bank was telling members in August 2019 "We need a mobile phone number". (This is so that a code can be sent to the customer to validate an on-line transaction for example).
The bank subsequently made it clear that there would be other methods of authentication for customers that cannot use a mobile phone for this (because they don't have one for example, or cannot get a reliable signal).
We asked for an update.
The bank's response
Later this year, customers will receive a One Time Password (OTP) when wanting to complete a purchase online via SMS.  However there will be other options available to customers who need an alternative, based on their individual circumstances and this is something customers could contact us about if they need further support when the new process is announced.
Our comment
As a follow up we have asked the bank whether they have considered an option for an automated voice call to a land line to provide the OTP. The bank has said they are looking into this.
---
Unincorporated not-for-profits
In 2019 a member complained that the bank would not open an account for an organisation that was not incorporated (as a charity, company or cooperative). The bank responded then:
We are aware this means we don't have an offering for some of the smaller community organisations who may be interested in banking with us and we are looking at how we provide services to those organisations again, either for free banking with the Community Directplus account or on a chargeable business tariff.
We asked if we could report any progress.
The bank's response
The investment that we are making in our SME banking proposition and processes will give us the opportunity to complete a review of our current eligibility later in 2020.
Our comment
The Co-operative Bank used to be well known as the bank for clubs and societies that may not be formally incorporated. The situation has evolved with new money-laundering regulations.
We look forward to seeing what the bank will be able to offer.
---
Animal testing
A member urged the bank to "continue not to invest in companies that test on animals, or in fact any company that exploits or uses animals in any way"
The bank's response
We remain committed to our Ethical Policy statement on protecting animal welfare and continue to screen new and existing customers to ensure they are not involved in:
The exploitation of great apes e.g. in experimentation or general commercial use
The degradation of endangered animal species' habitats
Animal testing of cosmetic or household products, intensive farming, blood sports or the fur trade.
Our comment
This is as we would expect from the bank. Notwithstanding that many bank customers are vegan or vegetarian, it seems unlikely that the bank would go so far as to refuse to do business with a small independent shop selling organic cheese for example, or indeed that bank customers would back such a move.
---
Positive investment
A member asked about positive investment in renewable energy and other new technologies that promote biodiversity.
The bank's response
In recent years we have reshaped our business strategy to focus on Retail and SME Business Banking customers (including charities and social enterprises). In line with this business strategy, The Co-operative Bank does not invest in stocks and shares. Of course we continue to screen our small business banking customers in line with our Ethical Policy, and to support many of our customers who are charities, social enterprises and community focused businesses and who are attracted to our ethical brand.
We do offer lending facilities to businesses that are involved in renewable energy projects and have included this within our 2019 Annual Report and Accounts – We lent £24m to this sector in 2019. We also support international programmes that promote biodiversity via our carbon offsetting programme which is facilitated via climate and sustainability experts, ClimateCare.
Our comment
Given that the bank is now fully focused on retail, community and smaller businesses, there aren't, frankly, that many opportunities to tell giant arms manufacturers that, no, the bank won't deal with them. For this reason we would very much like to see the bank work on positive investments. For example, there are many smaller, cooperative and community owned projects in renewable energy. We will continue this discussion with the bank.
---
Account closures
More than one member has raised again the closure of the Palestine Solidarity Campaign and other campaigning organisations accounts in 2015.
The bank's response
We would advise any members who have ongoing concerns regarding this issue to read the independent report produced by Amnesty International UK in 2016 which the 'Save our Bank' campaign contributed to. We believe that this report comes to a fair conclusion regarding the Bank's actions with regards to the Palestine Solidarity Campaign. In addition, the blog published by Kate Allen, Amnesty's UK Director, in relation to this.
https://www.amnesty.org.uk/blogs/campaigns/co-operative-bank-rethinking-civil-society-account-closures
Our comment
We passed on this comment to the bank so that they were aware that customers haven't forgotten. We still receive emails that raise the issue from time to time.
As the bank says we did work closely with Amnesty International. It is a complex matter. While significant damage was done (for example to the finances of the Palestine Solidarity Campaign), the bank did acknowledge problems with the process and did take appropriate steps to avoid a repetition.