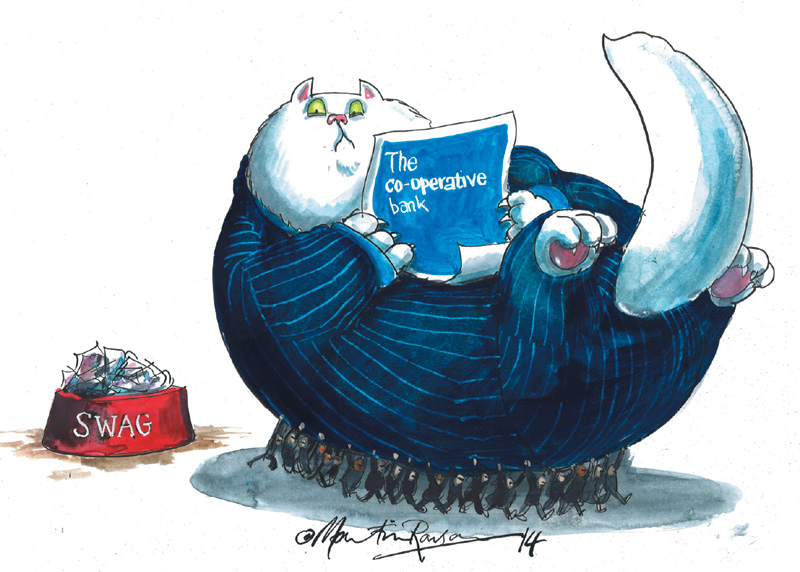 Cartoon by Martin Rowson
Thanks to Martin and Red Pepper magazine
When most of the shares in The Co-operative Bank were sold off to private shareholders in 2013, a group of bank customers, supported by Ethical Consumer magazine, formed the Save Our Bank Campaign. We wanted to make sure the bank kept its world-leading ethical policy and ultimately return to majority co-operative control. Within a few months, over 10,000 bank customers had signed up to the campaign.
They can't ignore us, the customers
Through crowd power, we successfully persuaded the bank to maintain its existing ethical commitments, and a enhanced policy was launched by the bank in 2015. But the co-operative stake in the bank remains at just 20% and we need to keep up the pressure.
That's why we have created a new union for co-operative bank customers. The Customer Union for Ethical Banking is a co-operative, democratic member organisation that can hold the bank to account, campaign for a larger co-operative voice and buy shares in the bank to help build up the co-operative stake. We think this is the first time a customer union like this has been formed anywhere.
The union - like the campaign - will have two main aims: to make sure the bank sticks to its customer-led ethical policy, and ultimately to help the bank return to co-operative ownership. We can do this by organising as customers, by working with like-minded investors and by building a new, independent co-operative shareholding.
You can join the Customer Union for Ethical Banking here on line.
We ask for a small contribution of £12 per year.
Join us
---