The Co-operative Bank has published its Values and Ethics report for 2015.
You can see the full report here.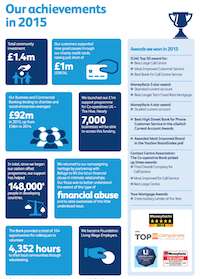 In its publicity, released on 9 June, the bank said:
"The Co-operative Bank today publishes its 2015 Values and Ethics Report – a summary  of  how  the  Bank is demonstrating its commitment to its extended Ethical Policy.
The  UK's  only  high  street  bank  with a customer-led Ethical Policy has produced  an  in-depth  and  independently  audited  report. It details the Bank's  position  on  all  aspects  of  its Values and Ethics, from product development,  charitable  giving,  and  ethical  campaigning, to supporting economic and social development in Britain.
Highlights of the 2015 Report reveal that the Bank:
Returned to its campaigning heritage by partnering with Refuge to lift the lid on financial abuse in intimate relationships;
Launched 'The Hive' - a £1m business support programme to help growth in the £37bn co-operative and social enterprise sector*. The programme is being run through Co-operatives UK and nearly 7,000 co-operatively run businesses will be able to access this service;
Launched new overdraft and credit card propositions which were designed in conjunction with customers and reflect the values of transparency and fairness;
Sourced 99 per cent of its energy from renewable sources;
Reused or recycled 88 per cent of the total tonnes of waste we produced during 2015 (up from 70 per cent in 2014);
Raised close to £1 million for its charity partners through affinity credit cards;
Delivered £1.4m of community investment;**
Supported local communities through staff volunteering with 4,352 hours of paid time off (almost an hour for every colleague who works for the Bank);
We're working our way through it at the moment. There are some real achievements as you can see. One immediate criticism is that a full 'warts and all' report would surely have said something about NGO accounts closures. We'd love to hear from supporters on your view of the report - email info@saveourbank.coop