Welcome to this newsletter from the Customer Union for Ethical Banking, the independent union for customers of The Co-operative Bank.
In this month's longer newsletter we read the Co-op Bank's new Sustainability Report, so you don't have to. But first, an update on our crowdfunder.
 
---
Our crowdfunder: Only one-third of our goal still to raise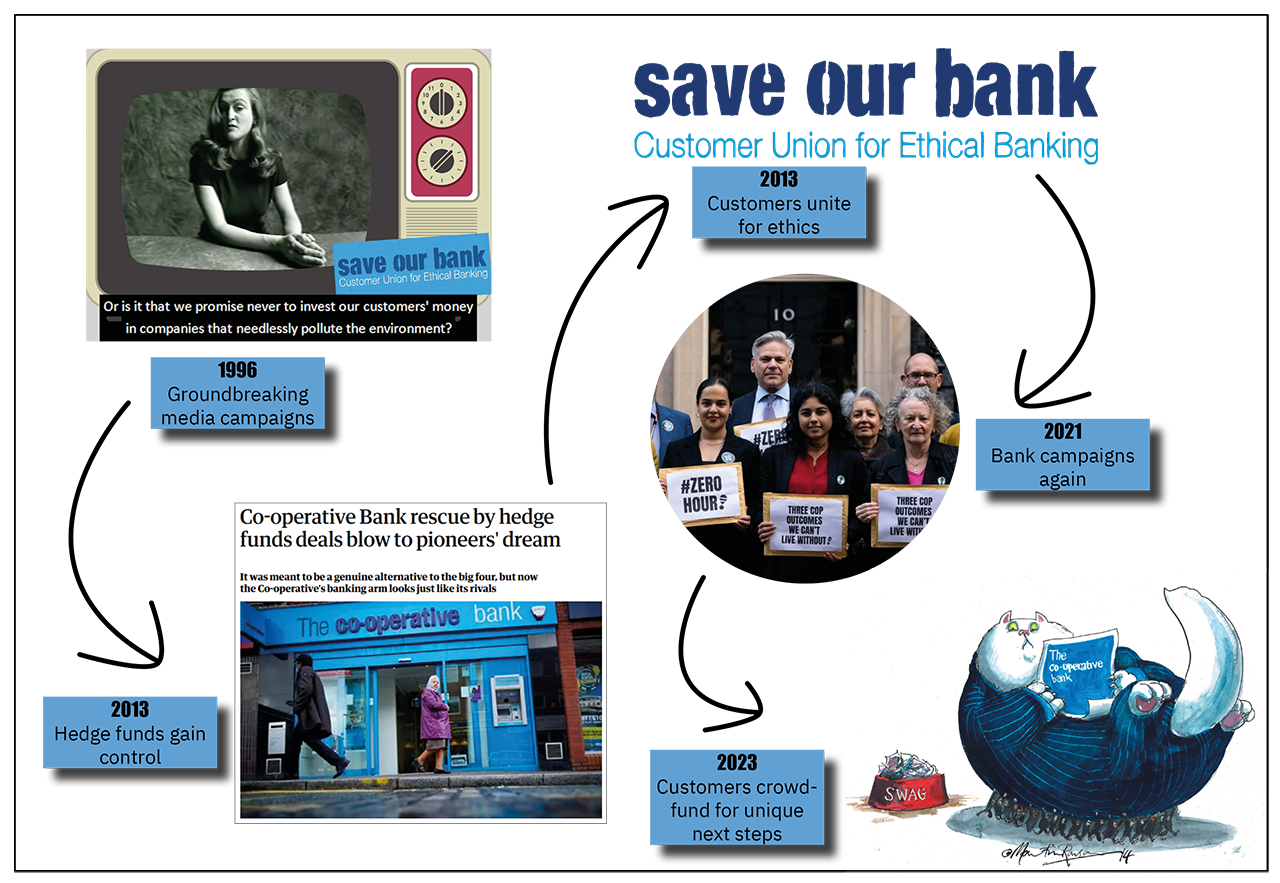 Our crowd-funder to support our vision for the next ten years has already raised £12,261 towards our £18,000 goal - that's more than two thirds! This is a great result, and means we can already fund the first stage of our plan.
But of course, that means we have one third still to raise before the crowdfunder closes in just 42 days time. Without more funds in place, we won't be able to deliver the second two stages of our plan; growing the union and changing how other banks work. So if you haven't contributed yet, please support your Unionif you can.
Now on to the reason we are asking for your money - our work to make sure that the bank remains a leading ethical voice in the sector.
---
Our view of the Co-op Bank's New Sustainability Report

Just before we came out with last month's newsletter, the Co-op Bank released its 2022 Sustainability Report. This is an important document to get an insight into how the bank is implementing its Ethical Policy, so let's dive into some of the details. You can also read the report yourself here - at 37 pages it's the bank's longest sustainability report since 2016, which is no bad thing.
New 2050 climate targets compared
One headline new development from the Co-op Bank this year is that it has, for the first time, published a commitment to reach "net zero" in its financed emissions by 2050 (including emissions from its business customers and households). This is a good step in line with global climate targets, and as the Co-op has not financed the extraction and production of fossil fuels since 1998, it should be well ahead of its competitors.  
The bank says that its mortgage lending has the largest climate impact, and it will "therefore focus on supporting the net zero transition of the UK housing sector and our customers' homes." However beyond this there are few details so far, with no intermediate targets (which are important as the bulk of the work of cutting emissions needs to be done in the next seven years), and no baseline figure for the size of the bank's current financed emissions.
The bank has been slower than its high street rivals when it comes to the target-setting here. The big banks have all had net zero plans for 2050 in place for some time now – Barclays, for example (still Europe's biggest financier of fossil fuels) did this in 2020. If we look at the more ethical end of the competition, Triodos stands out as the leader here, having "set the high ambition to be net zero by 2035" across its financing and investment activities.
The Co-op is far from the only bank that still has work to do though. Nationwide has no net zero target so far, while other banks that rate highly on Ethical Consumer's current accounts guide, like Cumberland Building Society and Monzo, also do not yet report on financed emissions.
It's good to see the Co-op Bank making progress here however, and there is something to be said for taking time to get it right. But the bank should take a clear leadership position soon. Its report includes a 2023 target to "develop a robust programme of work as we strive to decarbonise the Bank and achieve Net Zero status by 2050", so we look forward to the bank delivering on this next year.
Business turned away for ethical policy breaches
One thing that makes The Co-op Bank unique is its reporting on business turned away under its Ethical Policy. In 2022 the bank turned away eight businesses, out of 8,703 business accounts opened and 233 referrals made for ethical screening. These were:
Human rights: One organisation "involved in the sale and transfer of weapons to international customers."
Climate: "six businesses involved in the oil and gas sector" that breached the bank's fossil fuel policy.
Irresponsible gambling: One business, for "failing to protect customers engaged in gambling activities."
We applaud the bank for continuing to report on ethical policy decisions in this way. But the bank needs to take more care about the detail it gives on these declines. For example, the sale and transfer of weapons to international customers is not a breach of the Ethical Policy, unless the weapons are indiscriminate (like cluster bombs) or are transferred to oppressive regimes. In a time when the UK is sending weapons and armoured vehicles to Ukraine, the importance of this distinction could not be clearer.
We've been delighted to see the return of external auditing of the bank's Sustainability Reporting in recent years, but this audit does not yet include a review of the bank's ethical policy decision-making, as it used to. This leaves an open question of whether the bank is still implementing its policy in the same way as it did in the past. For example, there were no businesses turned away for animal welfare declines in 2022, and only three in the last four years, out of 248 businesses referred. In a comparable period from 2009 to 2012 (when these decisions were still audited), there were a similar number of businesses referred (238), but 24 declined! These are typically the kind of small businesses the Co-op still banks, declined for reasons including involvement in intensive pig farming, use of fur, abattoirs that did not use pre-stunning, makers of cosmetic ingredients that are tested on animals.
How can we be assured the bank is not taking on customers now that it would have considered breached its Ethical Policy a decade ago? We would like to see the bank bring in specialist sustainability assurance to ensure its policy is implemented consistently over time.
In brief: what else caught our eye
There's a lot in the Sustainability Report, and we've gone into some depth on two issues we consider most important. However there's a lot more that's worth a mention, most of it very positive.
To do the less positive part first, it's worth flagging that the bank's lending to renewable energy has declined year-on-year for five years "as historical loans have been repaid" - from £26 million to under £8. Yet the bank sets itself a low target of "ongoing investment" in this sector, and gives itself a green tick to say it's "in a good position" on this. We'd like to see a plan to reverse this decline, perhaps supported by its Green Bond programme.
The rest is all good stuff:
There's a 2023 target to "campaign to transform the private renting sector: Protecting people at risk of homelessness." That's exciting. And good space for the bank.
Great work is continuing with long-term charity partners like Amnesty, with the Write for Rights initiative, and also Refuge, which made recommendations to the government on tackling domestic abuse with the Co-op Bank's involvement and support last year.
£50,000 was donated to Amnesty to help document human rights violations in Ukraine, and more was donated to the Disasters Emergency Committee's Ukraine appeal.
The bank was in parliament promoting the Climate and Ecology Bill at a reception in the House of Lords in October.
An interesting snippet - the bank has now switched to using Ecosia as its default search engine, to support tree planting.
Then there's the areas that are "business as usual" for the Co-op but still worth praising: PVC-free bank cards, zero waste to landfill for three years in a row, sourcing all electricity from renewables, championing diversity at Pride, being a LIving Wage employer, and impressive levels of employee volunteering, to name a few.
Lastly, the Customer Union - that's us! - gets a mention for the first time. We're pleased our engagement with the bank is recognised as a positive.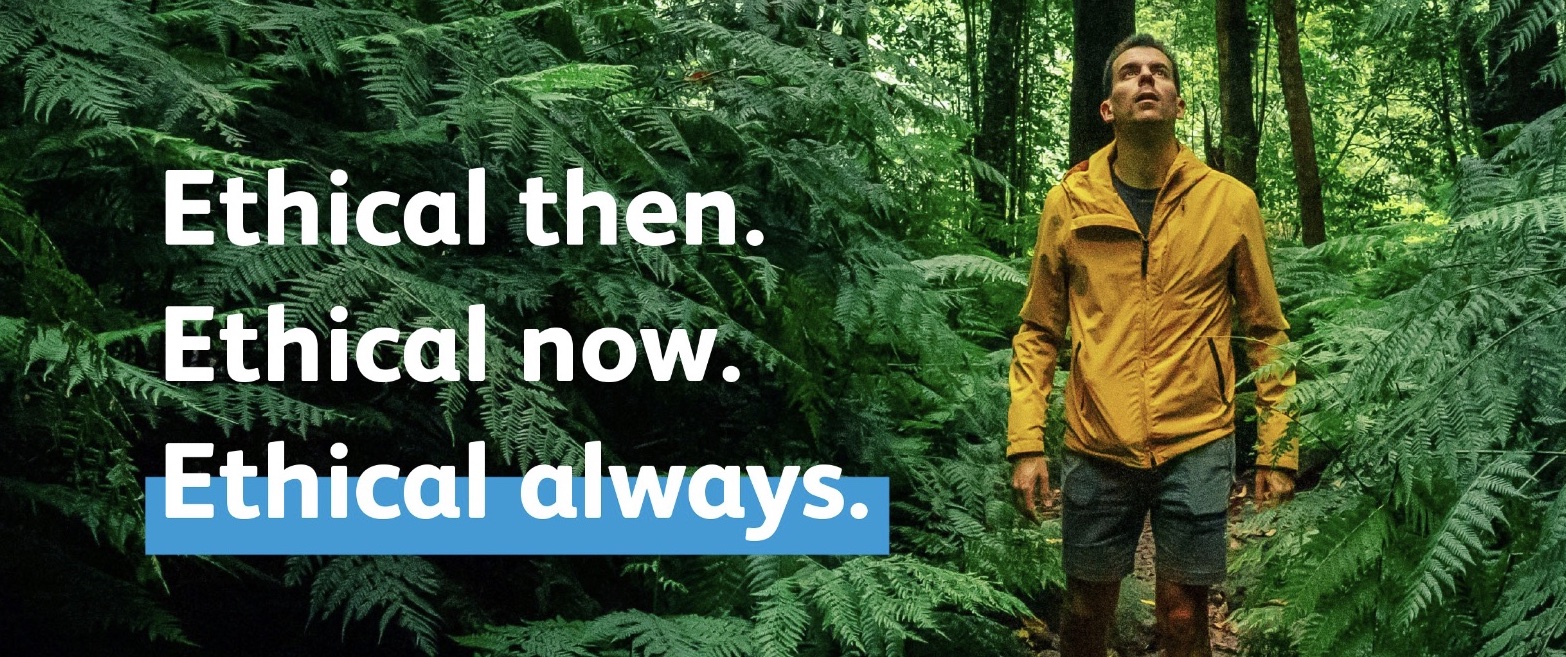 ---
That's all from us. If you appreciate this level of analysis of the bank's ethical performance, do please donate to the crowd-funder or indeed join the Customer Union if you haven't yet, or if you have, tell others about it on social media, or forward this email.
Thank you for reading and following the work of the Customer Union.
With best wishes,
The Save Our Bank teamend
---
Have you joined the Customer Union yet? It costs £15 a year to be a member of the first ever customer union co-operative, and help us ensure the Co-op Bank sticks to its principles. It only takes a few moments to sign up here.