Welcome to this February newsletter from the Customer Union for Ethical Banking, the independent union for customers of The Co-operative Bank.
 
---
We're launching a crowdfunder for the next 10 years of the Customer Union
Welcome to this first Save Our Bank newsletter of 2023. We hope your new year is off to a great start.
We're writing with an exciting announcement: we're launching our new, second-ever crowdfunding campaign today, to support the growth of our Customer Union over the next ten years.
Learn more about the crowdfunder and support us here.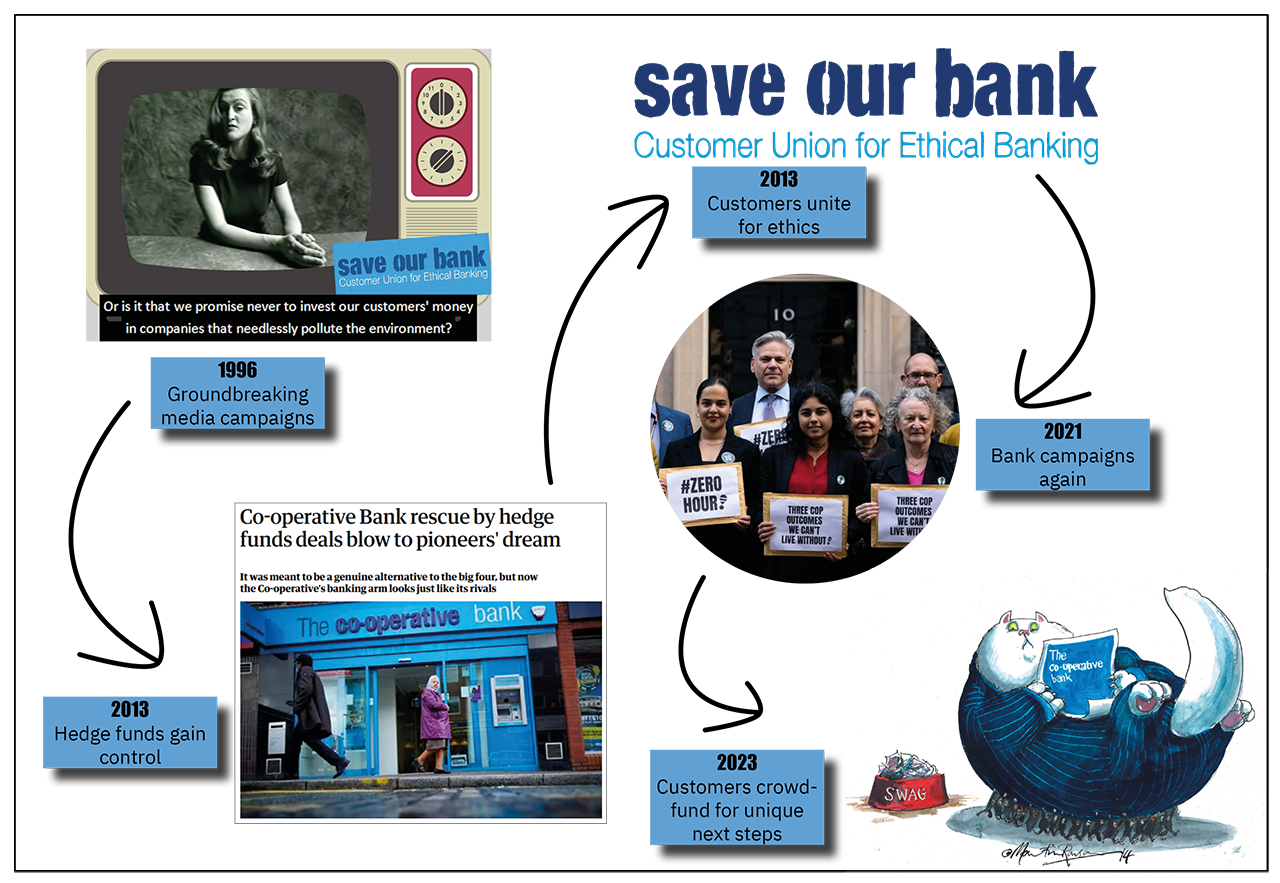 The Save Our Bank campaign was founded ten years ago when The Co-operative Bank hit trouble and a group of customers got organised to preserve its unique ethics and work for a return to cooperative ownership. Ten years later, the bank is no longer in financial trouble and its ethics seem secure. We've achieved a lot together, but there is more to do. We have a vision and a plan for 2023 to 2033, and we need your support to help achieve it.
The most important parts of our plan are:
From customers to owners: Setting up a fund to build a cooperatively-owned stake in the bank, starting with some detailed research to make sure we have the right model.
Growing the union: Investing in more capacity and working with the Co-op Bank to reach more of the bank's 3.1 million customers.
Changing how other banks work: Use what we learn to systematically influence participation and ethics in the rest of the banking sector.
We will need your help to reach these goals. We have calculated that we need to raise £18,000 on top of our member income to make all this happen. And we're already on our way, having raised £4,500 towards our plan from three major UK retail co-ops.
We know that times are tough, but we believe that with your help we can secure a real stake and a larger voice in the Co-op Bank. Every donation, no matter the size, will make a difference and bring us closer to our goal.
Please consider contributing if you can.
And whether or not you are able to support, do please share the fundraiser on social media using the buttons on the page or by forwarding on this email.
Thank you for reading and supporting the Customer Union.
With best wishes,
The Save Our Bank team
---
Have you joined the Customer Union yet? It costs £15 a year to be a member of the first ever customer union co-operative, and help us ensure the Co-op Bank sticks to its principles. It only takes a few moments to sign up here.