Save Our Bank's view on the Co-op Bank's Values and Ethics Report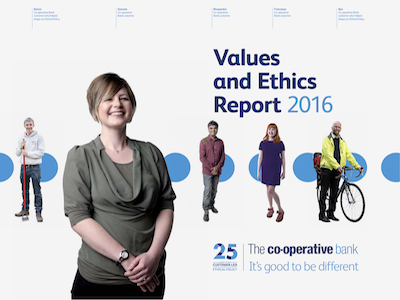 The Co-op Bank released its latest annual Values and Ethics Report earlier in the summer, looking back at performance against its ethical commitments over 2016. After months of uncertainty about the bank's future, the report is a reminder that behind the scenes the staff have been doing their best to make sure it's ethical business as usual.
Turning away unethical business
On screening against its ethical policy, the bank reports that seven organisations were declined banking services for failing to meet its ethical criteria, out of 196 which were referred for review. Three of these were companies providing specialised services for oil and gas extraction, which breaches the bank's climate change policy. The bank also declined a business involved in designing tanks which were sold to oppressive regimes, and a business involved in irresponsible marketing of alternative medicine.
This is standard practice for the bank, and has been reported on regularly since the ethical policy was introduced in 1992. But it's worth reflecting that no other high street bank reports business turned away on ethical grounds in this way, as none comes close to matching the bank's comprehensive policy.
We also learn that the ethical policy will be reviewed once again in the second half of this year, after a recent update in January 2015 which Save Our Bank helped make sure didn't lead to any dilution of the bank's commitments.
Supporting Co-ops and ethical business
The bank's recent recapitalisation led to the Co-op Group's ownership stake in the bank being reduced to 1%, and some have called for the bank to be renamed as it is no longer owned by a co-operative. We're determined to work for a return to co-operative ownership and customer involvement in the running of the bank, but we do see a case for the bank to maintain its name, in the meantime, as a bank for the co-operative sector. For this, the bank needs to show that it remains committed to cooperatives, and the report measures up on that score.
2016 was the first year of The Hive, a three-year £1 million project, and the project has so far supported 86 groups and co-ops with £74,600 worth of expert advice. In addition, £30 million of the bank's lending was to co-operatives and mutuals. In total, loans to social and environmental organisations accounted for 41% of the bank's business (£177 million).
Not quite warts and all: reporting on account closures.
The bank used to describe its approach to reporting as "warts and all", and although it doesn't use that phrase in this report, it is crucial for this kind of report to be able to fess up to mistakes and not just talk up the bank's good deeds, so the bank can learn and continue to improve. So we were keen to see how the bank reported on what we saw as the bank's biggest ethical misstep for many years - the mishandled closing of accounts for several human rights charities working in Palestine and elsewhere.
The report covers these account closures in a page on "managing our customer risks" (page 10), which details the bank's processes "to ensure we meet our regulatory and legal obligations". This concedes that in 2015 the bank "received criticism for the way it communicated the closure of a small number of accounts that belonged to unregistered charities or charitable organisations who made payments to ultra-high-risk countries", and admits its communication "fell short of customer expectations and was not aligned to our Ethical Policy commitments."
However this is only part of the picture. The account closures weren't limited to "unregistered charities and charitable organisations who made payments to ultra-high-risk countries" - the bank also closed accounts for organisations that do not send any money abroad, and for registered charities (e.g. Sheffield Palestine Women's Scholarship Fund).
To address this problem, the bank has set up an Exit Forum, which reviews account closure activity across the Bank and discusses "actions that may be in conflict with the Bank's values and ethics." The bank provides data on the number of accounts referred to the Exit forum since it was established in April 2016 (116 accounts were referred, of which 59 were closed). This reporting is welcome, although we would like to see more reporting on decisions taken, beyond a simple numerical breakdown.
But there are some surprising elements to this story which are missing from the bank's reporting. For example, as regular readers of the Save Our Bank newsletter will know, last year Amnesty UK, a Co-op Bank customer, investigated the bank's approach to account closures for human rights groups, after a resolution at its annual meeting. Amnesty held a discussion meeting with affected groups and other experts, organised with Save Our Bank and the Fund for Global Human Rights, and released a report in April 2017, accompanied by a blog by Amnesty's UK Director Kate Allen, making several recommendations to the bank, to which the bank responded.
It's bizarre that this high-level, critical but productive engagement between the bank and the country's leading human rights organisation doesn't warrant a mention in the bank's reporting. It's good practice in the banking sector to report on all significant engagements with civil society organisations, as the Dutch co-operative bank, Rabobank, does, for example.
Pay is still an ethical issue
Save Our Bank also reviewed the bank's 2015 Values and Ethics report, and our main criticism then was the lack of reporting on account closures. But another area for improvement we highlighted was the issue of executive pay. The current report also includes little on this topic, other than a line stating that "pay and rewards for our senior executives are market-based, fair and responsible, and linked to individual and company performance."
This issue has become much less acute for the bank since the departure of its previous CEO, Niall Booker, whom the bank threatened to pay almost £5 million in 2015. (In the end he cashed a cool £3.8 million that year, declining to a mere £2 million in 2016, with no bonus.) The current CEO's base salary for 2016 is under half that of his predecessor. However, we would still like the bank to recognise that executive pay has an ethical dimension as well, and report on the ratio between the bank's lowest and highest paid staff. We hope to see this better addressed in future years.
 
Save Our Bank team September 2017