We can make a difference
They can't ignore us, the customers. Join our campaign to keep the Co-op Bank ethical.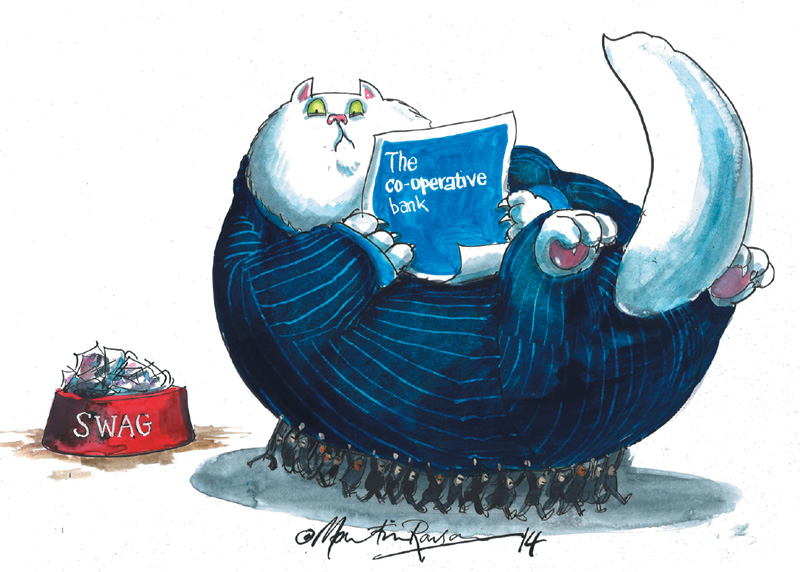 Cartoon by Martin Rowson, thanks to Martin and Red Pepper magazine
The Co-operative Bank has grown to become one of the world's best-known ethical brands with its:
unique business model of refusing to lend to companies breaching strict ethical standards on the environment, human rights and animal welfare, based on customers' views
high-profile campaigning on controversial issues like fossil fuels and cluster munitions
These ethical policies were underwritten by the ownership of the bank by The Co-operative Group, the world's largest mutually-owned consumer co-operative. However, in 2013 the Bank hit serious financial difficulties – for reasons unconnected to its ethics. It was kept afloat with a 'recapitalistion plan', which left the majority of its shares owned by private investors, including a group of US hedge funds.
Many customers were concerned that this could be the death knell for its principled position. But in October 2013 some customers decided to take a stand and set up the Save Our Bank Campaign.  
We believe that the new owners will need to be careful to preserve the bank's current ethical approach, or they will lose too many customers and damage the value of their investment.  This has given us influence over the bank.
That's why we are saying don't switch. Sign up to our campaign instead. Since we launched, over 10,000 customers have joined us. The more of us there are, the more we can make our voice heard. 
The campaign has two main aims:
to make sure the bank sticks to its customer-led Ethical Policy, and ultimately
to help the bank return to co-operative ownership.
In recent months we have been in regular contact with the bank, at their request. Through their actions they have shown that our campaign is having an effect.


The campaign is backed by Ethical Consumer magazine, working with ordinary customers of the bank, some of the Bank's charity customers and Co-operative Group members.
@saveourbank  #saveourbank